Facebook and Twitter User Behavior Changes: New Research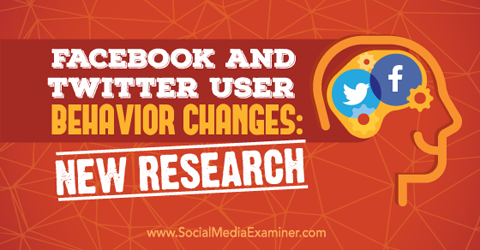 From Suzanne Delzio at Social Media Examiner
Is your business on Facebook and Twitter?
Have you considered sharing news with your audience?
Research indicates that people are using Facebook and Twitter for more than connecting with friends and brands. They're now looking to these platforms for updates on current events.
In this article you'll discover how the way people use Facebook and Twitter is shifting, and how brands can respond
#1: More People Get Their News From Facebook and Twitter
A July 2015 study from Pew Research Center reveals that increasing numbers of Twitter and Facebook users visit the platforms to get news. Of the over 2,000 study participants, 63% now depend on both channels for updates on national events and political issues, big leaps from 2013 numbers.
Twitter, which was more news-oriented from the beginning, didn't have as dramatic a leap: 52% to 63% during the two-year period. Those reporting they use Facebook for news, on the other hand, grew from 47% in 2013 to 63% in 2015, or a hefty 34%. While the opportunity to stay abreast of friends and family events gets users on Facebook initially, it's news (sports, science, technology, business and entertainment) that keeps them there.
Read Full Article on Social Media Examiner